equity : anti-benchmark® strategies
TOBAM's patented Anti-Benchmark® approach is a systematic, long-only and fully-invested strategy seeking to collect the full risk premium of an investment universe by maximizing diversification. Anti-Benchmark® strategies are constructed using the patented Maximum Diversification® approach, which has one objective: maximizing the Diversification Ratio® (DR) of a portfolio, TOBAM's proprietary measure of diversification.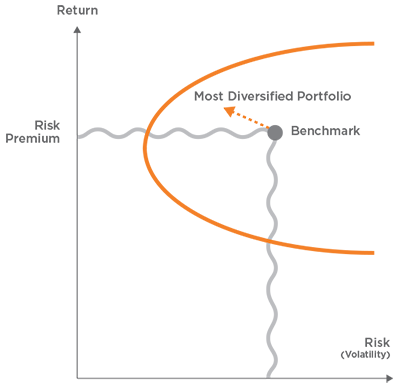 The Anti-Benchmark® strategy is designed to create portfolios aiming to lie closer to the ex-post efficient frontier than the market cap portfolio over a market cycle. Anti-Benchmark® portfolios access the available risk premium in a risk efficient manner and intend to typically enhance performance over a market cycle vs. the benchmark via greater diversification for equity portfolios, while also reducing volatility.
TOBAM's range of Anti-Benchmark® strategies is proposed across different asset classes (equity, fixed income and multi asset) and a wide range of investment universes.
See below the full universes of our equity Anti-Benchmark® strategies:
Strategy name
Investment Universe
Regional Equities
Anti-Benchmark Canada Equity
 MSCI Canada
Anti-Benchmark Euro Equity
 MSCI EMU
Anti-Benchmark France Equity
 MSCI France
Anti-Benchmark Japan Equity
 MSCI Japan
Anti-Benchmark Korea Equity
 Kospi 200
Anti-Benchmark Pac ex-Japan Equity
 MSCI Pacific ex-Japan
Anti-Benchmark North America Equity
 MSCI North America
Anti-Benchmark Switzerland Equity
 Swiss Performance Index (SPI)
Anti-Benchmark UK Equity
 MSCI UK
Anti-Benchmark US Equity
 MSCI US
Global Developed & Emerging Equities
Anti-Benchmark Global Equity
 MSCI World
Anti-Benchmark World Equity
 MSCI World
Anti-Benchmark Emerging Markets Equity
 MSCI Emerging Markets
Anti-Benchmark All Countries World Equity
 MSCI AC World
Anti-Benchmark World ex USA
 MSCI World ex-USA
Anti-Benchmark World ex Switzerland
 MSCI World ex-Switzerland
Source: TOBAM The information provided relates to past performance. Past performance is not a reliable indicator of future results and should not be the sole factor of consideration when selecting a product or strategy. Performance is shown on a Net Asset Value (NAV) basis, with gross income reinvested where applicable. The return of your investment may increase or decrease as a result of currency fluctuations if your investment is made in a currency other than that used in the past performance calculation. The sub-funds mentioned in the website are either part of Most Diversified Portfolio SICAV, an open-ended Luxembourg-based investment company (Société d'Investissement à Capital Variable), validly formed and existing in accordance with the laws of Luxembourg and which is registered with the CSSF (Commission de Surveillance du Secteur Financier), or part of an AMF declared FCP (fonds commun de placement). TOBAM is the global distributor and the manager of the SICAV. The sub-funds may not be eligible for sale in some states or countries and they may not be suitable for all types of investors. In particular, they are not eligible for sale in the US. The sub-funds presented on this site may only be subscribed in the jurisdictions in which their marketing and distribution are authorized. TOBAM advises all interested parties to check in advance whether they are legally entitled to subscribe to the sub-funds presented on the website. The reader of this message is requested to ensure that he/she is legally authorized to consult this site from the country from which the connection has been established. Any investment in Most Diversified Portfolio SICAV should be made on the basis of the current legal documents (prospectus, KIID and reports). Past performance is not a guarantee of future performance and may fluctuate over time. For details of the investment risks, see the current KIID and prospectus in its entirety. All investors should seek the advice of their legal and/or tax counsel or their financial advisor prior to any investment decision in order to determine its suitability. The value and income produced by an investment may be adversely affected by exchange rates, interest rates, or other factors so that an investor may get back less than he or she invested. If a product is income producing, part of the capital invested may be used to pay that income. All the information contained herein may not be reproduced in any form without the express permission of TOBAM and to the extent that it is passed on, care must be taken to ensure that any reproduction is in a form which accurately reflects the information presented here. Whilst TOBAM believes that the information is correct at the date of production, no warranty or representation is given to this effect and no responsibility can be accepted by TOBAM to the recipient of this document or end users for any action taken on the basis of the information contained herein. No reliance may be placed for any purpose on the information and opinions contained in this document or their accuracy or completeness. Opinions expressed herein reflect the opinion of TOBAM and are subject to change without notice. This website is not a transactional site. This website is for information purposes only and does not constitute a recommendation, solicitation, offer, advice or invitation to purchase or sell any sub-funds or to enter in any transaction and should in no case be interpreted as such, nor shall it or the fact of its distribution form the basis of, or be relied on in connection with, any contract for the same.