Interview of Justin Bécret – September 2019
TOBAM initiated the Youth Sponsoring Project in 2014, as a sponsorship effort to support the endeavours of young individuals to excel, to challenge their own limits and develop skills unusual for athletes or students their age.
WHO ARE YOU AND HOW DID YOU GET INTO SURFING?
My name is Justin Bécret, l am 17 years old and l am from Seignosse in the South West of France. My two parents are surf instructors so, l was raised in the surfing culture. The first memory I have of being on a board is in Australia, I was 5 years old and my father pushed me on the left with my leash on the wrong foot because he wanted me to be goofy like him. I fell in love with the ocean when I was around 8 years old for no particular reason and that love persists to this day. In the beginning, l surfed just to be in the ocean however, as l grew up my surfing improved and l started taking part in competitions.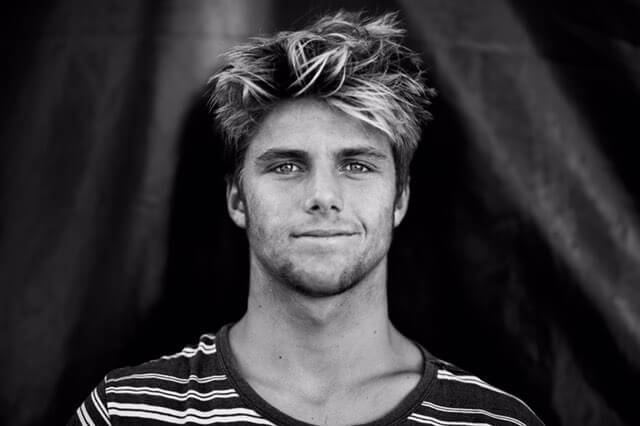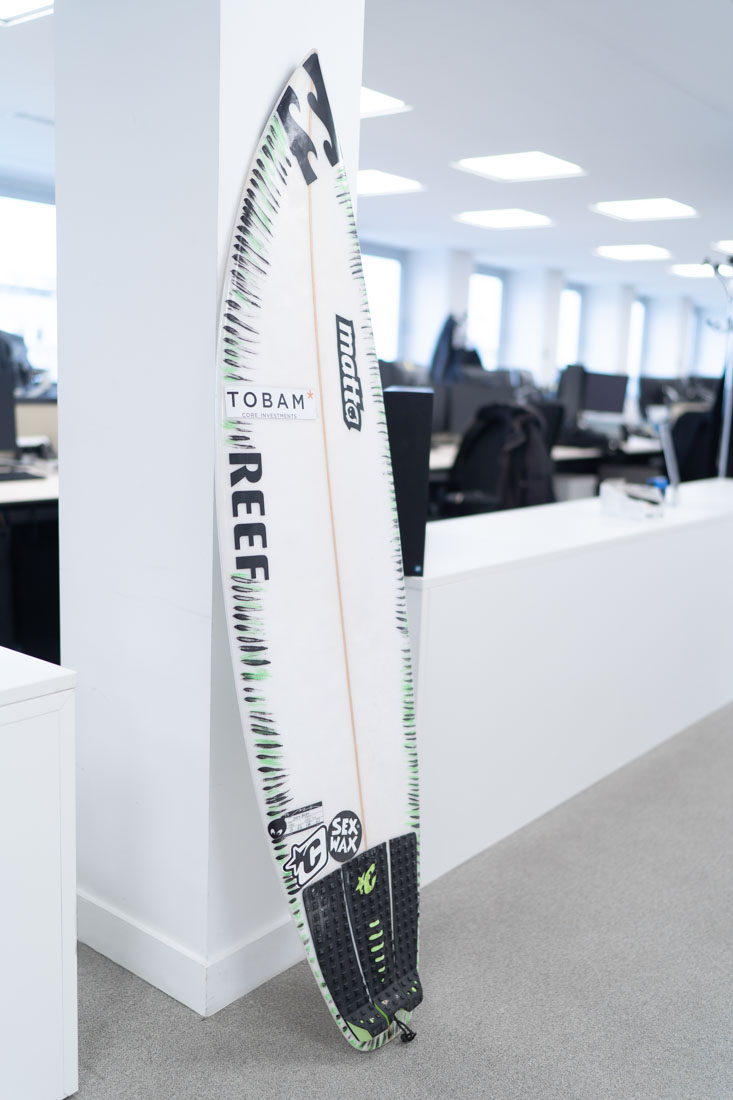 WHAT IS THE LIFE OF A PROFESSIONAL SURFER LIKE?
I guess my life as a professional surfer is similar to any other athlete's life except that my trainings depend on the tides and the winds.
I am currently pursuing a Political Science certificate designed for high level athletes in the University of Political Sciences of Paris. I am excited and a bit impressed as it is taking place in Paris, which is outside of my comfort zone.
I do not really have a "typical day": I train and surf and study and train and surf again.
HOW DO YOU COMBINE TRAVELING ABROAD FOR COMPETITION, TRAINING AND STUDYING?
I was fortunate enough to study at home with the Hasckschooling institute, which has a structure designed for young athletes so they can travel around the world and still be able to follow a "normal" education.
When l was home, I went to the institute for 4 hours a day from Monday to Thursday where teachers helped me to learn. When l was away, l was assigned homework and l could contact a teacher by Skype if I was in trouble or if I had a question. I graduated and obtained the "Baccalauréat" certificate thanks to them.
I know studies are important, not just in order to get a job or some diplomas but to be able to think by yourself and act conscientiously. Getting my Baccalaureat was a condition given by my mom if I wanted to continue surfing but keeping on and following a university programme was a choice I made with my parents support.
IN 2020, YOU WILL OFFICIALLY BE COMPETING WITHE PROS, AND NO LONGER WITH THE JUNIORS. WHAT WILL BE THE MAIN CHALLENGES AND WHAT ARE YOU OBJECTIVES FOR 2020?
This is indeed a huge change for me but I am excited about what is coming next. The main challenge is that there will be many competitors for only a few spots. My advantage will be that l am the rookie and no-one will be waiting for me. I will try to push my surfing to its limits in every heat and I would love to be in the "outsider" position.
Surfing against people that have been competing for longer than I have makes me to take a step back sometimes, relativize and just enjoy my life because surfers are lucky, we get to see beautiful places and meet many interesting people along our way. My goal for 2020 is to enter the top 100 of the Qualifying Series (QS) and win a QS event.
WHAT ARE THE RELATIONSHIP WITH OTHER SURFERS? ARE YOU FRIEND OR IS IT A VERY COMPETITIVE INDUSTRY?
Almost all my friends are surfers that I get to compete against. I think sport in general is a really good way to make friends. With surfing, you get to travel all around the world and making friends along the way is one of my favourite things about it.
Sometimes though, the cultural differences might be though, it can be hard to be well understood. For example, Americans do not use irony in the same way as we do in France so we misunderstand each other sometimes!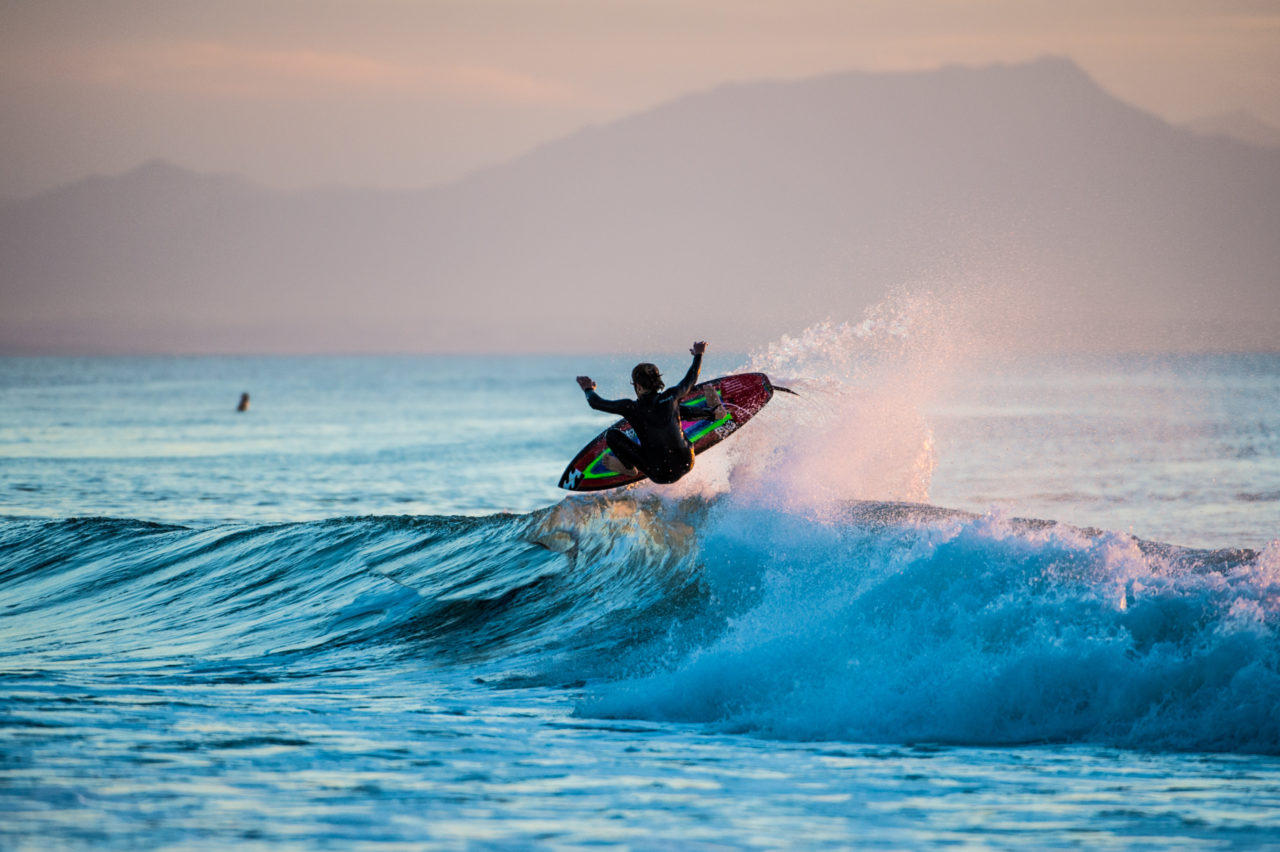 DO YOU RECALL ANYTHING UNUSUAL WHICH HAPPENED IN A COMPETITION THAT YOU COULD SHARE WITH US?
My biggest wave and my scariest moment as a surfer were only couple of seconds apart. It was at Jaws (Maui, Hawaii) in January 2019, the swell was huge probably 25ft or 30ft and I was out there waiting for a wave. I waited for about 3 hours and then, I finally got a wave around 20ft I guess, the flow of adrenaline was insane and when I got to the bottom of the wave, a bump took me off my board and I went down.
When I resurfaced, I saw the scariest and most beautiful wave I had ever seen. It was so big I saw it landing on my head in slow motion and then it was all black. I got washed up by the wave and resurfaced 50 meters later all disoriented. Someone came to pick me up with a jet ski and brought me back to the boat. I had so much adrenaline rushing through my brain that I could not sleep that night.