TOBAM adds two artworks to its Art collection, commemorating the American Civil Rights Movement
TOBAM initiated its contemporary art collection in 2010. The art initiative was established as a way to promote creativity, beauty and introduce a spirit of innovation into the workplace.
The first piece to enter TOBAM's collection was "Uberall" by Dutch artist Bart Domburg and we have added new pieces on a regular basis ever since. TOBAM now exhibits several contemporary art works, which are drawn from a range of both emerging and more established international artists.
True to its founding spirit, TOBAM supports artists that exhibit original thinking or divergent production processes, artists that Think Out of the Box. TOBAM also has a long tradition of supporting youth, being young athletes or emerging artists, requiring public recognition and support.
Most importantly, each work selected resonates with one or more of TOBAM's investment philosophy, research-driven corporate culture or long-standing engagement towards – and support of – the preservation of human rights, freedom of speech and of artistic expression, entrepreneurial freedom and the celebration of diversity.
As a celebration of the legacy of Martin Luther King in the days following his birthday, TOBAM added two major pieces celebrating African-American civil rights activists to its collection in 2021.
Created by French-Beninese Artist Roméo Mivekannin, the works feature the images of key figures within the US civil rights movement Rosa Parks and Martin Luther King.
Text from the writings of renowned civil rights activist and pan-Africanist, W. E. B Du Bois's "The Souls of Black Folk" form a resonant backdrop to the activists' images.
---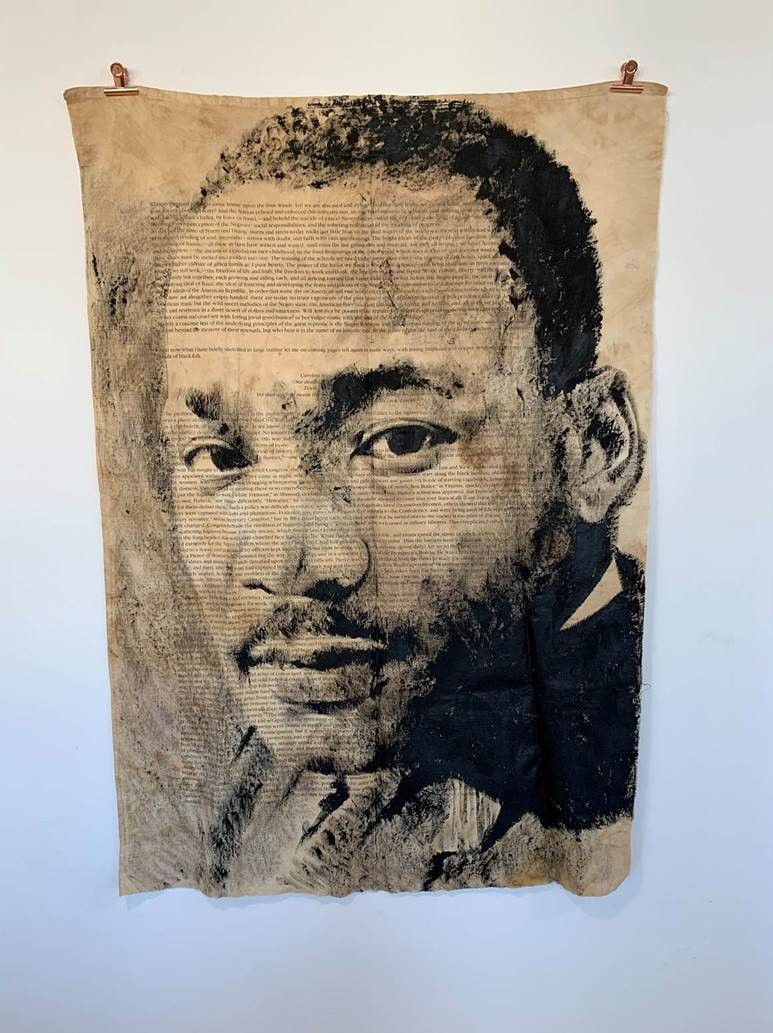 Martin Luther King, 2020
Acrylic screen painting and elixir bath on free canvas
130 x 90cms
Rosa Parks, 2020
Acrylic screen painting and elixir bath on free canvas
135,5 x 98.5cms