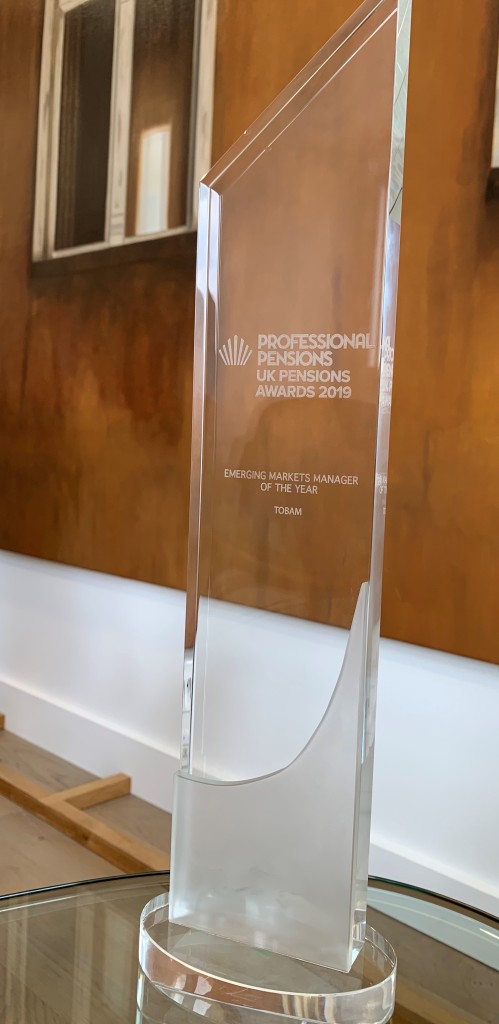 We are pleased to announce that TOBAM has been awarded "Emerging Markets Manager of the Year" at the 22nd UK Pensions Awards ceremony on the 23rd of May 2019 in London in The Hilton Park Lane.
The UK Pensions Awards remains one of the industry's most prestigious accolades. They shine the light on excellence and recognise the advisers, providers and investment managers that offer the highest level of innovation, performance and service (as of 31st of October 2018) to occupational pension schemes and their members, and have done the most to improve this over the past year.
The awards are rigorously judged by a panel of senior scheme managers, trustees and advisers.
The level of competition was particularly high in the Emerging Markets category. Other shortlisted firms included Ashmore Investment Management, Hermes Investment Management, Janus Henderson Investors, Muzinich & Co., Neuberger Berman, PGIM Fixed Income, T. Rowe Price & Vontobel Asset Management.
TOBAM's Emerging Markets capability has performed well in the three main criteria that were considered by the judges.
The main achievements that were outlined in TOBAM's award entry were TOBAM's commitment to sustainability (implementation of a Systematic Carbon Footprint Reduction to all equity strategies), impressive inception to date performance of the Anti-Benchmark® Emerging Markets strategy (outperforming the benchmark by 8.70% whilst reducing volatility by 16.91%) and the significant research capabilities of TOBAM (3rd major research paper published this year "Portfolio Rho-presentativity").
In addition to this, TOBAM has been shortlisted at the European Pensions Awards in four separate categories, Investment Manager of the Year, Equities Manager of the Year, Emerging Markets Manager of the Year, Multi-Asset Manager / Provider of the Year. Results will be announced at the Awards dinner on the 20th of June 2019 in London.
(Source: www.ukpensionsawards.com/)
Disclaimer: These awards are not indicative of TOBAM's future performance.